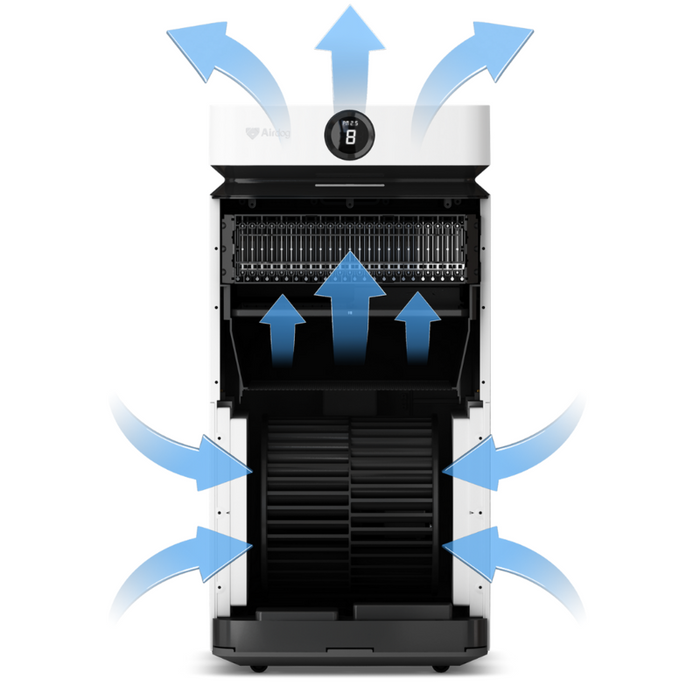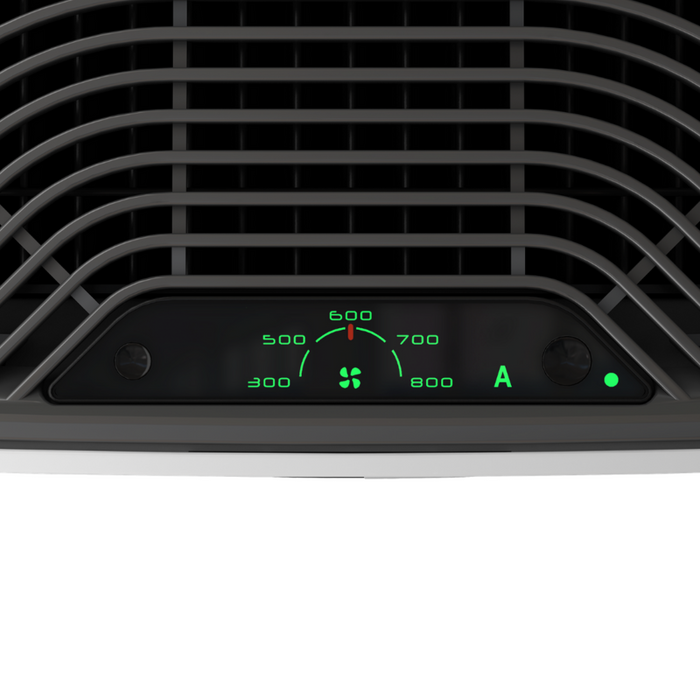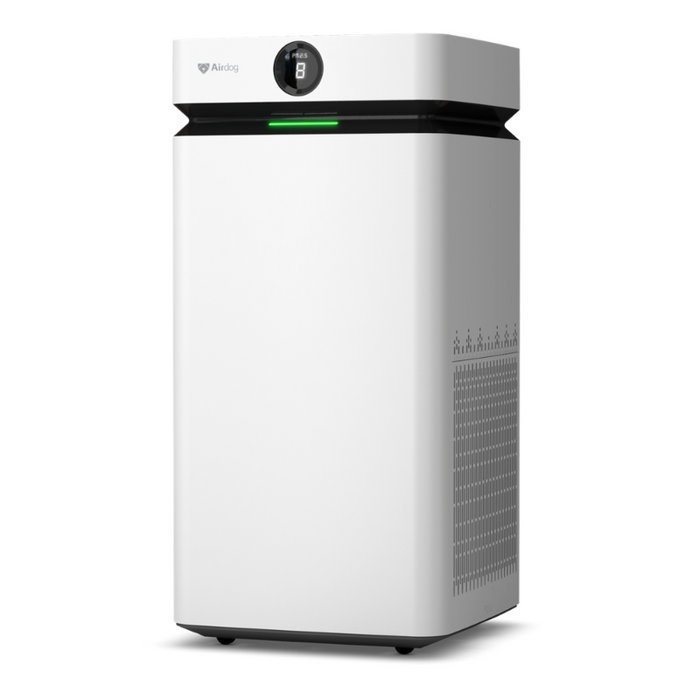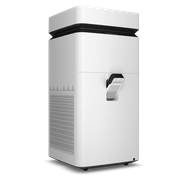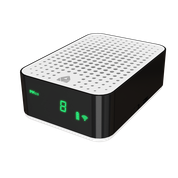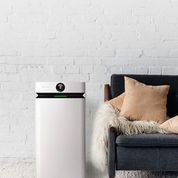 Airdog X8 Home Air Purifier airdogx8
The sale will be over once the timer hits zero!
Airdog X8 Home Air Purifier 
Airdog X8 is designed to be the ultimate performance air purifier.
Faster: High CADR (clean air delivery rate), up to 470 CFM, more than double that of the Airdog X5!  This probably is the record high for clean airflow rates - for any of the electrical filtration air purifiers in history! 

The X8 may well be the highest CADR among all air purifiers, including HEPA.

The X8 cleans a 1000 square foot room in 20 minutes.
---
Quieter: Airdog X8 takes aerodynamic design to a higher level. You won't find another air purifier that is quieter than the X8, with double the airflow level of our industry-dominating X5, and a noise level on par with the X5. If we compare the X5 & X8 to other BIG brand products at the same airflow rate, the noise level of 8 Airdog X8's working together equals the noise level of one IQxxx (another top seller); or the noise level of six Airdog X8 working together equates to one Bluexxx (another well-known brand). 
Cost: We are not just talking about money or being cost-conscious. As humans we are growing more environmentally conscious. HEPA filters are made of non-recyclable fiberglass and TPA offers a revolutionary washable solution. Enjoy the fresh air and feel good about protecting our planet.
---
Includes a detachable Air Quality Laser Detector...
---
Product Specifications - 
Size: 30(H)*15(L)*15(W) inches /76cm*38cm*38cm
Applicable Area: 1000 SQF
Item Weight: 43 lb 19.7Kg
CADR(PM2.5): 500 CFM
CCM Particle/ Formaldehyde: P4/F4
Noise Level: <63 dB(A)
Rated Power: 110
---
REVIEWS: ⭐⭐⭐⭐⭐
Robert K.
I now have the x8 x5 and v5 and I love each of them. The air quality in my house and car now are incredible. There's never any bad smells any more and the air just feels cleaner. Any smoke from cooking or exhaust smells are eliminated promptly. Cleaning the filtering plates is a breeze and I love not having to buy new filters all the time. It makes me feel a lot better about my investment. I highly highly recommend this Airdog technology and their products!
---------------------------------------------------------------------------------------------
Linda M.
I bought this air purifier for my daughter and her husband. They both have allergies. They also have two dogs. They love this purifier. The husband says the air no longer gets stuffy in the house. He says he can really tell the difference. I think I'll get one for my house.
Item type: 1 YEAR WARRANTY
---------------------------------------------------------------------------------------------
Jeremy C.
The Airdog X8 is the best alternative to more costly and ugly commercial systems that require yearly expensive replacement filters. The built in air quality sensor is extremely sensitive, and the system adjusts according to the perceived changes in air quality. Alberta is one of the worst provinces in CANADA for air pollution, and this air purifier holds its own. I opened the front door for a few minutes, and the air quality index number increased almost instantly and the system adjusted ...
Item type:
1 Year Warranty
----------------------------------------------------------------------------------------------
Ivana T
We've had lots of issues with air quality this past year. The kids were getting really ill from it, and our family doctor confirmed that lots of patients are coming in for the first time with illnesses caused by air quality changes. Our existing air purifier was good, but just not enough to deal with the challenge of pet dander, extra dust from the ongoing drought, and bushfire smoke. So we invested in the X8, and it is amazing. For the first time in a while, the kids don't wake in the morning all coughs and sneezes. We are no longer taking any allergy medication. And we can see the measurements on the X8 changing in response to real-time changes in the air: on a day when bushfire smoke got worse, just opening the front door would cause the formaldehyde reading to jump up on the app with a warning. It's so sensitive. It's really good to have the awareness this brings! We are pretty impressed with the performance of the X8. We now have nil dust, nil smoke, nil allergies and nil pet odour. The quality of our sleep is much improved (and X8 has a super stealthy sleep mode that I can't even notice). I should also express extra thanks here to the team at Airdog for specially converting the power detail on this appliance for Australian electrical requirements. No converter needed. So nice of them to do that! It just went to work, as is. We rationalised this purchase for the family by considering our medical expenses and ongoing allergy issues. Making a choice between cleaner air, or lots of medicine and doctor's visits was easy for us. Thanks to the X8 we are finally dealing with the cause, and not our symptoms. I can't rave enough about the difference it's made.
-------------------------------------------------------------------------------------------
Robert D.
Runs very quiet like you would not believe. I didn't but now I do. Looks good and is not obtrusive. Biggest plus...no filters to buy. Ever!
Our Guarantee
At DreamAirPurifiers, we truly offer the most stunning, trendy highest-quality air purifiers in the world.
We will do WHATEVER it takes with outstanding customer service support to assist everyone as we highly value our customer satisfaction with absolute ZERO risk.
We make sure that every customer is 110% satisfied in every aspect with 24/7/365 FAST SUPPORT!
Active shoppers on site